Steel edge to edge partition wall
Hersteller-Webseite
Pioneer on safety partionning in the building market, SVF creates innovative solutions for both person and good protection.

Within its innovations, SVF brings a complete range of glazed doors and partition walls mixing contemporary design and high performance in circumstances of fire.
Vertriebskontakt
Registrieren Sie sich um die Informationen bezüglich des Vertriebkontakts einzusehen. Link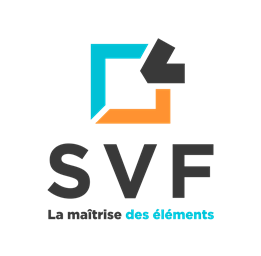 Steel edge to edge partition wall
Wählen Sie das gewünschte Format und klicken Sie auf den Download-Button
| | |
| --- | --- |
| Main material | Stahl |
| Secondary material | Glas |
| Designed in | Frankreich |
| Manufactured in | Frankreich |
For a refurbishment or a new build, the Acierflam glazed edge to edge partition wall stands out by its total absence of structure between glazing. It offers a remarkable design that can be used to create light and airy spaces, while protecting from fire. Profile specially developed for full embedding into the environment with the possibility of creating corners without uprights.
Thermally insulated steel tube
Weld and grind assembly
The glazing is held in place by clamping between the insulating plates (no beading)
Finish casing in aluminium or stainless steel plate, 15/10 thick
| | |
| --- | --- |
| Classification IFC | Vorhangfassade |
| Uniclass 1.4 Code | L384 |
| Uniclass 1.4 Description | Partitions, non-structural internal walls |
| Uniclass 2.0 Code | SS-25-10-30 |
| Uniclass 2.0 Description | Framed Partition Systems |
| NBS Reference Code | 25-10-30 |
| NBS Reference Description | Framed Partition Systems |
This product is available in:
North America :
Guadeloupe
Martinique
Oceania :
Französisch-Polynesien
South America :
Französisch-Guyana
Um Informationen bezüglich der Montagefirma zu erhalten registrieren Sie sich unter folgendem Link Link