Volet Roulant Rénovation Visio Moustiquaire
Website van de fabrikant
Profalux has been designing, manufacturing and marketing more than 1500 roller shutters, awnings, sun protection and roll-up garage doors every day since 1969.

With more than 3 million products installed in France, our brand offers the inescapable expertise of exceptional French manufacturing. Production at the Thyez plant in Haute-Savoie represents more than 200 salaried jobs that contribute t... bekijk meero the local economic dynamic.

Our team, passionate and creative, is constantly searching, innovating and finding solutions that improve everyday life.
Demanding, we choose to produce according to the highest quality standards, regularly submitting our production to audits by the CSTB (Centre Scientifique et Technique du Bâtiment), the French building authority. ... zie minder
Commercieel contact
Om de informatie van de commerciële contactpersoon te zien, moet u zich eerst aanmelden door hierop te klikken Link
Catalogus
Om de informatie van de commerciële contactpersoon te zien, moet u zich eerst aanmelden door hierop te klikken Link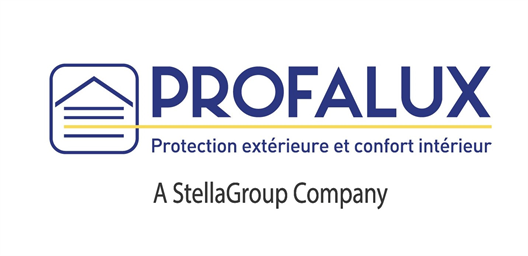 Volet Roulant Rénovation Visio Moustiquaire
Selecteer het gewenste formaat en klik op de downloadknop
| | |
| --- | --- |
| Main material | Aluminium |
| Designed in | Frankrijk |
| Manufactured in | Frankrijk |
Find in the section « Download » every usefull informations for your project : technical drawings, data sheet, notice, downloading procedure of the « Vent & Volet » mobile app, argumentary of the connected general remote control Calyps'HOME®.
Rolling Shutter with Mosquito Net. 2 products in 1: True heat shield (insulation against cold and heat), defense against insects for improved building comfort.
- Smallest box in its category with total erasure of the final slat in the box to limit the loss of glazing clearness
- For safety: automatic Anti-lifting device from the outside, slides and final blade made of highly resistant extruded aluminum.
- Exclusive Enduro chassis tested 14,000 cycles (40 years of operation with one ascent and descent per day)
- Automatic Locking Device (DVA) developed by Profalux
- 2 shapes of box to choose from: rounded, cut side
- Possibility of recovering 4 mm of play-free width at the time of installation

- Wide choice of colors: apron, box, runners and final slat to choose from the manufacturer's range (RAL and Futura)
- Wide choice of colors for the canvas Mosquito net
To know : Exists with optional mosquito screen awning - Also available in solar operation - compatible with a connected remote control (sold as an option) to close the shutters at the same time with a single button, even remotely. Compatible with BMS (Building Management System)

INSTALLATION CASE

- Installation WITHOUT RESERVATION
Traditional construction with insulation from the inside or outside
Under lintel nude outside
Also possible in Wood Frame House
Installation in external winding only


Technical data
Find all the technical product information in the technical data sheet available in "Download"
NF PRODUCT
Aluminium blades :
- PX39 = curved blade 39 mm Alu double-wall profile with CFC-free polyurethane foam
- PX39 Thermo-Reflex™ = curved slat 39 mm Aluminium double-walled profile with polyurethane foam with Thermo-Reflex™ winter special thermal lacquer to preserve the interior colour
- PX39 ISOMAXX = curved slat 39 mm Double-walled aluminium profile with polyurethane foam with Thermo-Reflex™ thermal lacquer and Beckrytherm for double insulating effect Summer-Winter
- PX40 = flat slat 40 mm Double-walled aluminium profile with CFC-free polyurethane foam
PVC blades :
- PVC40 : 40 mm curved blade
Manoeuvres that can be done :
Radio
Wired
Backstage :
C48D
Minimum Limits :
Profalux Electric Motor without backup
Min. width of the back panel = 530 mm
Cabinet height Incl. min. cabinet height = 400 mm
Limits of use for Visio Mourtiquaire Alu slats :
depending on the type of blades - download the technical data sheet

Casing :
Shape of box: cut side, rounded
Casing section: 123/ 132/155/170/205 - depending on blades and configurations.
Minimum clearance on the window: Box section 123/132/155
Dimensions H x Depth :
123 x 161 mm
132 x 170 mm
155 x 191 mm
170 x 204 mm
205 x 235 mm
Wind resistance V*3 or V*5 according to blades and / or dimensions
Please note : The mobile app « Vente & Volet » allows you to calculate in a few clicks the wind resistance class your rolling shutters, BSO or vertical stores may respect. For your project according to the DTU 34.4

* LDC = Width of the back of the guide rails
* HCC = Height Including Cabinet Height".
| | |
| --- | --- |
| Classification IFC | Window |
This product is available in:
Om de gegevens van het installatiebedrijf te zien, dient u zich eerst aan te melden door hierop te klikken Link
| | |
| --- | --- |
| | VM-VISIO MOUSTIQUAIRE-eclate.pdf |
| | VM-VISIO MOUSTIQUAIRE-motorise-complet-section 155.PDF |
| | VM-VISIO MOUSTIQUAIRE-motorise-vue de dessus-section 155.PDF |
| | VM-VISIO MOUSTIQUAIRE-motorise-vue de face-section 155.PDF |
| | VM-VISIO MOUSTIQUAIRE-motorise-vue en coupe-section 155.PDF |
| | Argumentaire de la télécommande générale connectée Profalux - Calyps'HOME®.pdf |
| | Procédure de téléchargement de l'application Vent & Volet.pdf |