Brise-Soleil Orientable Référence
Hersteller-Webseite
Profalux has been designing, manufacturing and marketing more than 1500 roller shutters, awnings, sun protection and roll-up garage doors every day since 1969.

With more than 3 million products installed in France, our brand offers the inescapable expertise of exceptional French manufacturing. Production at the Thyez plant in Haute-Savoie represents more than 200 salaried jobs that contribute t... Mehr seheno the local economic dynamic.

Our team, passionate and creative, is constantly searching, innovating and finding solutions that improve everyday life.
Demanding, we choose to produce according to the highest quality standards, regularly submitting our production to audits by the CSTB (Centre Scientifique et Technique du Bâtiment), the French building authority. ... weniger sehen
Vertriebskontakt
Registrieren Sie sich um die Informationen bezüglich des Vertriebkontakts einzusehen. Link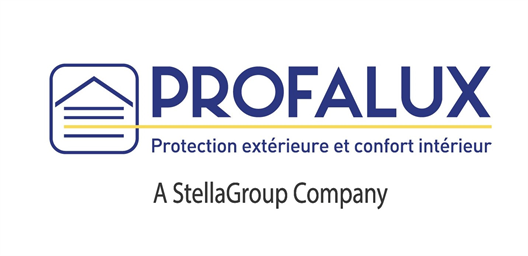 Brise-Soleil Orientable Référence
Wählen Sie das gewünschte Format und klicken Sie auf den Download-Button
| | |
| --- | --- |
| Main material | Aluminium |
| Designed in | Frankreich |
| Manufactured in | Frankreich |
Find in the section « Download » every usefull informations for your project : technical drawings, data sheet, notice, downloading procedure of the « Vent & Volet » mobile app, argumentary of the connected general remote control Calyps'HOME®.

REFERENCE Orientable Sunbreaker - Dims the light by the orientation of the blades while preserving the view outside, only BSO to date having obtained the NF CSTB certification Closures

• Certified performances of wind resistance, endurance, protection against heat, frost resistance, resistance to salt corrosion.
• Self-supporting BSO for a perfect alignment with the backstage area
• Deck made up of Z-shaped aluminium slats stopped by a tenon per slat in alternation to ensure good wind resistance.
• End slat and runners with anti-noise joint in extruded aluminium.
• Wide choice of colours: apron to be chosen from the manufacturer's range. Casing, runner and end slat to be chosen from the manufacturer's range, in the RAL or Futura range.
• Quick installation like a roller shutter in renovation

To know : For widths greater than 3600 mm, the BSO Reference has special installation features. The product is no longer self-supporting, it is necessary to provide a re-fastening of the lintel in the central part.

INSTALLATION CASE
• Installation in TUNNEL BOX
Traditional construction with interior insulation
Also possible in Thermal Insulation from the outside or in a concrete cavity.
• Installation in RESERVATION IN SHEETINGS
Construction House Ossature Bois
• Installation WITHOUT RESERVATION
Traditional construction with insulation from the inside or outside
Between panels, under the lintel also possible in timber-frame houses or wall-mounted
For façade installation: height and width-adjustable mounting brackets are included in the scope of supply.
Technical data

Find all the technical product information in the technical data sheet available in "Download"
NF PRODUCT
Blades :
- PX90Z = Aluminum blade 90 mm
- PX70Z = Aluminium blade 70 mm
Manoeuvres that can be done :
Radio
Wired

Backstage : C20
Min. limits :
Profalux Electric Motor without backup
For blade PX70Z and PX90Z
LDC* min = 550 mm
HCC* mini = 500 mm
For smaller widths, please consult us
Maximum limits :
Max LDC* = 5000 mm for PX90Z and 3600 mm for PX70Z
HCC* max = 3950 mm
Booking in depth :
130 mm for PX90Z and 120 mm for PX70Z
Reservation in depth with mantling :
160 mm to 185 mm for PX90Z and 155 to 185 mm for PX70Z
Maximum surface per BSO : 12 m².
If LDC* < 3600 mm: no cabinet by default, cabinet optional
If LDC* > 3600 mm or surface area greater than 9 m², box as standard
If installed with a mantling, a box is required for the installation of a mantling.
Number of brackets for front fixing :
HCC* < 1800 mm = 2
1800 mm < HCC* < 3000 mm = 3
HCC* > = 3950 mm = 4
Wind resistance V*3 or V*5 according to dimensions
Please note : The mobile app « Vente & Volet » allows you to calculate in a few clicks the wind resistance class your rolling shutters, BSO or vertical stores may respect. For your project according to the DTU 34.4

*LDC = Width Back of Slides
*HCC = Height of the box included

| | |
| --- | --- |
| Classification IFC | Fenster |
This product is available in:
Um Informationen bezüglich der Montagefirma zu erhalten registrieren Sie sich unter folgendem Link Link
| | |
| --- | --- |
| | BSO - BRISE SOLEIL ORIENTABLE - Lambrequins.PDF |
| | BSO C0 - PX70Z dans Coffralux.PDF |
| | BSO C0 - PX90Z dans Coffralux.PDF |
| | BSO C0 - Reservation.PDF |
| | BSO C0 - Tablier PX90Z.PDF |
| | BSO-BRISE SOLEIL ORIENTABLE-calcul LDC pose standard.PDF |
| | BSO-BRISE SOLEIL ORIENTABLE-coupes avec dimensions.PDF |
| | BSO-BRISE SOLEIL ORIENTABLE-dans coffre demi-linteau.pdf |
| | BSO-BRISE SOLEIL ORIENTABLE-motorise-vue de dessous.PDF |
| | BSO-BRISE SOLEIL ORIENTABLE-motorise-vue de dessus avec lambrequin.PDF |
| | BSO-BRISE SOLEIL ORIENTABLE-motorise-vue de dessus.PDF |
| | BSO-BRISE SOLEIL ORIENTABLE-motorise-vue en coupe.PDF |
| | BSO-BRISE SOLEIL ORIENTABLE-motorise-vue en coupe-lambrequin LB1.PDF |
| | BSO-BRISE SOLEIL ORIENTABLE-motorise-vue en coupe-lambrequin LB2.PDF |
| | BSO-BRISE SOLEIL ORIENTABLE-motorise-vue en coupe-lambrequin LB3.PDF |
| | BSO-BRISE SOLEIL ORIENTABLE-PX70Z-motorise-vue en coupe dans coffre tunnel.PDF |
| | BSO-BRISE SOLEIL ORIENTABLE-PX90Z-motorise-vue en coupe dans coffre tunnel.PDF |
| | BSO-BRISE SOLEIL ORIENTABLE-sous face alu.PDF |
| | BSO-Coulisse C20 - Positions percages.PDF |
| | Sous-faces alu BSO C0 dans coffre tunnel.PDF |
| | Argumentaire de la télécommande générale connectée Profalux - Calyps'HOME®.pdf |
| | Procédure de téléchargement de l'application Vent & Volet.pdf |
| | BSO Référence.pdf |
| | BSO-BRISE SOLEIL ORIENTABLE - eclate.pdf |
| | BSO-BRISE SOLEIL ORIENTABLE-Calcul LDC equerre double.PDF |