FALZONAL®
Manufacturer's Website
PREFA has been relying on its innovative spirit and unfailing integrity for over 70 years to offer roof, façade and drainage systems, and much more. As a faithful companion, we havealways supported private builders, architects and planners as well as metalworkers and roofers with their building projects. We are proud of the many unique new builds and renovation projects that are implemented every ... see moreyear using PREFA aluminium products, andwhich not only have distinctive designs but are also durable and robust, even in extreme weather conditions. ... see less
Commercial contact
To see the information concerning the commercial contact, you must register first by clicking on this Link
Catalog
To see the information concerning the commercial contact, you must register first by clicking on this Link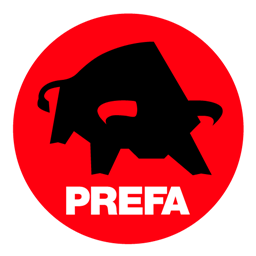 FALZONAL®
Select the desired format and click on the download button
| | |
| --- | --- |
| Main material | Aluminium |
| Designed in | Austria |
In terms of alloy, strength and coating, this colour aluminium strip has been specially tailored for applications using sheet metal techniques. It is perfectly suited to the widest variety of folding techniques – and can be combined with materials such as wood, glass or steel.
Falzonal® is available in a wide range of colours and surfaces with plain or metallic colours including copper, zinc or titanium shades.
Large choice of colours
PVdF coating (80/20) – UV-resistant and environmentally sound
Resists corrosion caused by condensation
Easy to work, strong load-bearing capacity
Alloy, mechanical properties and coating are coordinated with the folding technology
Falzonal® is non-combustible(A1)
Does not rust
Falzonal® Novelis colour aluminium in fold quality has been specially developed for roof & façade applications using sheet metal techniques.
MATERIAL: aluminium 0.7 mm thick
VISIBLE SIDE: made of powder-coated aluminium strip
REAR: protective paint
SIZE: thickness: 0.7 mmwidth: 600 mm / 1,200 mmcentre-to-centre seam distance: 53 cm
WEIGHT: sheet strip: 1.89 kg/m²approx. 2.2 kg/m² roof area with FALZONAL 600
FIRE PROTECTION: Falzonal ® is non-combustible according to EN 13501-A1. Smoke gases comply with DIN 4102 and pose no threat to health.
FOLD TYPES: The pre-painted aluminium strips can be easily rolled, cut, sawn, folded, canted, rounded, drilled, riveted and glued. Falzonal® can be combined with other materials such as wood, glass or steel. From arched roofs to narrow-angled dormers or bays, from church spires to large-scale façade cladding: Falzonal® offers many possibilities for individual roof and wall designs.
This product is available in:
Europe :
Austria
Belgium
Switzerland
Czech Republic
Germany
Denmark
Estonia
France
United Kingdom
Croatia
Hungary
Ireland
Italy
Lithuania
Luxembourg
Latvia
Netherlands
Norway
Poland
Russia
Sweden
Slovenia
Slovakia