box gutter
Manufacturer's Website
PREFA has been relying on its innovative spirit and unfailing integrity for over 70 years to offer roof, façade and drainage systems, and much more. As a faithful companion, we havealways supported private builders, architects and planners as well as metalworkers and roofers with their building projects. We are proud of the many unique new builds and renovation projects that are implemented every ... see moreyear using PREFA aluminium products, andwhich not only have distinctive designs but are also durable and robust, even in extreme weather conditions. ... see less
Commercial contact
To see the information concerning the commercial contact, you must register first by clicking on this Link
Catalog
To see the information concerning the commercial contact, you must register first by clicking on this Link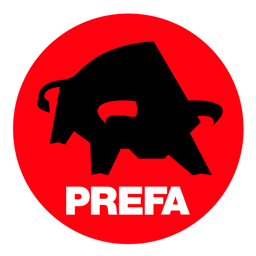 box gutter
Select the desired format and click on the download button
| | |
| --- | --- |
| Main material | Aluminium |
| Designed in | Austria |
BOX GUTTER – INFORMATION
PREFA gutters have been tried and tested for decades and their appeal lies in their well-thought-out, detailed technical solutions. Thanks to the proven surface treatment, they remain functional and attractive for many years. PREFA gutters are produced from powder-coated aluminium strips. Alloys according to EN 573 or DIN 1725 make up the basic material for this.
Advantages of PREFA gutters:
corrosion-free and long service life due to aluminium
tested original quality
can be used creatively thanks to a range of 12 colours plus additional special colours (on request)
maintenance-free
comprehensive gutter accessories
BOX GUTTER – TECHNICAL INFORMATION
The coating layer is malleable and protected against general chemicals and weather conditions. The coil-coating process is subject to strict quality controls.
In addition, the long-term behaviour is analysed in salt spraying, condensation and water immersion tests.
TEMPERATURE RESISTANCE
Between –30° and +80°
QUALITY CONTROLS
layer thickness, gloss level, shade, paint hardness, paint adhesion, paint bonding, deformation resistance, paint hardening
CHOICE OF COLOUR
Available in 12 colours. Special RAL or NCS colours available on request.
BOX GUTTER DIMENSIONS (PIECE LENGTHS: 3 M AND 6 M)
250, 333
Dimensions 400 and 500: only 6 m
Dimension 500: 3 m only available on request
ALUMINIUM DOWNPIPE (PIECE LENGTH: 3 M)
Ø 80 mm, Ø 100 mm, Ø 120 mm, Ø 150 mm
This product is available in:
Europe :
Austria
Belgium
Switzerland
Czech Republic
Germany
Denmark
Estonia
France
United Kingdom
Croatia
Hungary
Ireland
Italy
Lithuania
Luxembourg
Latvia
Netherlands
Norway
Poland
Russia
Sweden
Slovenia
Slovakia