Store Vertical Extérieur Ambio Zip
Website van de fabrikant
Profalux has been designing, manufacturing and marketing more than 1500 roller shutters, awnings, sun protection and roll-up garage doors every day since 1969.

With more than 3 million products installed in France, our brand offers the inescapable expertise of exceptional French manufacturing. Production at the Thyez plant in Haute-Savoie represents more than 200 salaried jobs that contribute t... bekijk meero the local economic dynamic.

Our team, passionate and creative, is constantly searching, innovating and finding solutions that improve everyday life.
Demanding, we choose to produce according to the highest quality standards, regularly submitting our production to audits by the CSTB (Centre Scientifique et Technique du Bâtiment), the French building authority. ... zie minder
Commercieel contact
Om de informatie van de commerciële contactpersoon te zien, moet u zich eerst aanmelden door hierop te klikken Link
Catalogus
Om de informatie van de commerciële contactpersoon te zien, moet u zich eerst aanmelden door hierop te klikken Link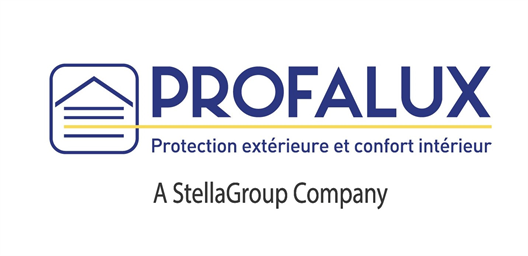 Store Vertical Extérieur Ambio Zip
Selecteer het gewenste formaat en klik op de downloadknop
| | |
| --- | --- |
| Designed in | Frankrijk |
| Manufactured in | Frankrijk |
Exterior Vertical Blind with Zip system
- Special for large dimensions up to 15m² - High wind resistance thanks to the fabric being held in place along the entire length - Active contribution to bioclimatic performance: Blocks up to 97% of heat in summer for greater living comfort and reduced environmental impact (delays the use of air conditioning) - Visual comfort Anti-glare with 100% coverage of the clear glazing - Quality and robustness with the weighted load bar 3kg/ml for a better hold of the fabric - Beautiful aesthetic finish with a wide choice of colors - High durability of the fabric over time.
NOTE: General control (sold as an option) to close all the blinds by pressing a single button.

Technical specifications
Characteristics of the fabric
Find all the technical information in the Technical Data Sheet available in "Download".
Coefficient of opening: 4%.
ΔR : 0,08 m²/W/K
Weight:
420g / m2
Solar and light properties :
According to EN ISO 2286-2
Fire classification : M1
Euroclass: B-s2
EN 13501
Tensile strength :
310/210 daN/ 5 cm according to EN ISO 1421
Resistance to tearing :
45/20 daN according to DIN 53.363
Wide range of aesthetic choices: 38 colors available for Serge Ferrari® Soltis Perform 92
Blind characteristics
Operation:
Radio Profalux Zigbee (or Somfy IO as an option)
Wired (Profalux only)
Runner: C45Z - 3-part runner for easy installation and removal
Minimum limits :
Profalux Electric motor without backup
LDC* min = 570 mm
HCC* min = 800 mm
For smaller widths, please contact us
Limits of use for Ambio Zip :
LDC* = 5000 mm
HCC* = 5050 mm
Casing :
Box shape : square
Casing section : 95 and 125 mm
95 = LDC 3000 x HCC 3300
125 = beyond LDC or HCC
INSTALLATION CASE
Traditional construction with interior or exterior insulation
Under lintel (Exterior wrap) Panel drilling or Face drilling
Under the lintel (Interior winding) Panel drilling


Please note: For LDC less than 749 mm, ask Profalux about the feasibility
CE marking, Class 4 or 5 wind resistance depending on dimensions > Find all the details on wind resistance on our Profalux website.
Info + : the application Wind & Shutter of Profalux allows you to calculate, in a few clicks, the class of wind resistance required according to the DTU 34.4 for roller shutters, brise-soleil orientables or vertical blinds on your site.
*LDC = Width of the back of the guides
*HCC = Height of the box included

This product is available in:
Om de gegevens van het installatiebedrijf te zien, dient u zich eerst aan te melden door hierop te klikken Link
| | |
| --- | --- |
| | Ambio Zip - COU-45ZM - Coulisse C45Z assemblée.pdf |
| | Ambio Zip 95 Coupe pose en façade.pdf |
| | Ambio Zip 95 demi fermé pose sous linteau enroulement ext.pdf |
| | Ambio Zip 95 demi fermé pose sous linteau enroulement int.pdf |
| | Ambio Zip 125 Coupe pose en facade.pdf |
| | Ambio Zip 125 demi fermé pose sous linteau enroulement ext.pdf |
| | Ambio Zip 125 demi fermé pose sous linteau enroulement int.pdf |
| | Eclaté Ambio Zip 95.pdf |
| | Eclaté Ambio Zip 125.pdf |
| | Documentation Store Vertical Exterieur Ambio Zip.pdf |