Aluminium Composite Panel
★★★★★

★★★★★

★★★★★
1 comment(s)
Website van de fabrikant
PREFA has been relying on its innovative spirit and unfailing integrity for over 70 years to offer roof, façade and drainage systems, and much more. As a faithful companion, we havealways supported private builders, architects and planners as well as metalworkers and roofers with their building projects. We are proud of the many unique new builds and renovation projects that are implemented every ... bekijk meeryear using PREFA aluminium products, andwhich not only have distinctive designs but are also durable and robust, even in extreme weather conditions. ... zie minder
Commercieel contact
Om de informatie van de commerciële contactpersoon te zien, moet u zich eerst aanmelden door hierop te klikken Link
Catalogus
Om de informatie van de commerciële contactpersoon te zien, moet u zich eerst aanmelden door hierop te klikken Link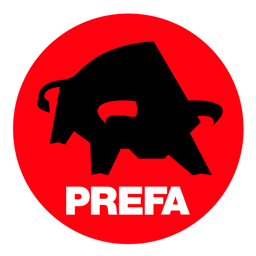 Aluminium Composite Panel
Selecteer het gewenste formaat en klik op de downloadknop
| | |
| --- | --- |
| Width | 4010 |
| Height | 1500 |
| Depth | 4 |
| Weight | 7.5 |
| Main material | Composite |
| Designed in | Oostenrijk |
The aluminium composite panel consists of two aluminium sheets which are fusion-bonded to both sides of a polyethylene core. Through the equal measure of chemical bonding and mechanical fastening, this combination is particularly robust. In this way, the aluminium composite panel ensures consistent evenness and stability, even on large-scale surfaces.
Ventilated façade constructions
Façade cladding
Cladding of balconies
Door panels, modular partition walls, room dividers
COATING ON FRONT: DURAGLOSS 5000 is an exclusive Arconic paint with a recently developed coating made of high-quality polymer resin, and is available in many colours. The gloss level is between 3 and 80%.
CORE: FR core (fire retardant)
COATING ON REVERSE: Protective paint, suitable for adhesion, offers excellent corrosion protection. The coating direction is indicated by arrows on the back. This enables you to correctly align the tiles on the façade.
STANDARD DIMENSIONS:
thickness: 4 mm
width: 1,535 mm
length: 4,010 mm
usable dimension: 4,000 × 1,525 mm
DIMENSIONS AVAILABLE ON REQUEST (FROM 500 M²):
thickness: 4 mm
width: 1,000/1,250/1,500/1,750/2,000 mm
length: between 2,000 and 6,000 mm
WEIGHT OF THE ALUMINIUM COMPOSITE PANEL (FR):
4 mm = 7.6 kg/m²
Which is 3.4 times lighter than steel and 1.6 times lighter than pure aluminium.
FIRE PROTECTION RATING (ALUMINIUM COMPOSITE PANELS FR): Austria (EN 13501) – B-s1-d0
Germany (DIN) – B1
Switzerland (VKF) – 5.3
TEMPERATURE RESISTANCE: between –50 °C and +80 °C
LINEAR THERMAL EXPANSION: A = 0.024 mm/m/°C (based on the aluminium cover plate)
CHANGE IN LENGTH AT A TEMPERATURE DIFFERENCE OF 60 °C: 1.4 mm per metre

This product is available in:
Europe :
Oostenrijk
België
Zwitserland
Tsjechië
Duitsland
Denemarken
Estland
Frankrijk
Verenigd Koninkrijk
Kroatië
Hongarije
Ierland
Italië
Litouwen
Luxemburg
Letland
Nederland
Noorwegen
Polen
Rusland
Zweden
Slovenië
Slowakije
Om de gegevens van het installatiebedrijf te zien, dient u zich eerst aan te melden door hierop te klikken Link