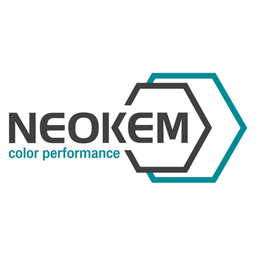 NEOKEM Ammos Collection RAL 7016
Selecteer het gewenste formaat en klik op de downloadknop
| | |
| --- | --- |
| Main material | Polyester |
| Designed in | Griekenland |
| Manufactured in | Griekenland |
Architectural Super Durable Fine Textured Powder Coatings

The RAL shades of Ammos collection with fine texture finish, combine excellent behaviour in outdoor conditions with high mechanical properties and outstanding appearance. The very high intensity of solar UV radiation in the Mediterranean Region, inspired us to design the new collection, in order to meet the contemporary architectural needs for superior aesthetic results and high standards. The colour shades of Ammos Collection are super durable powder coatings, approved according to Qualicoat, Class 2 and are at least three times more weather resistant than Class 1 powder coatings.

PP 600 Ammos is a new generation of Super Durable fine textured powder coatings. Due to its superior weathering resistance, 3 years Florida, it is recommended for architectural and other demanding applications where gloss, colour retention and long-term aesthetics are of significant importance. Superior Properties: Ability to cover substrate defects while creating a flawless appearance. Exceptional abrasion resistance. Increased chemical resistance. Low sensitivity to pollution. Superb edge coverage that reduces the risk of corrosion. Stable structure at different film thicknesses. Very good transfer efficiency and penetration to difficult areas. High yield due to low density. All PP 600 Ammos products are heavy metal and TGIC free.

PP 600 Ammos is approved by Qualicoat for Class 2 - Category 1 (Approval number: P-0780).
Appearance: Fine Textured Mat
Density (ISO 8130-3) 1.39 ± 0.20 gr/cm³ (Depending on shade)
Curing Conditions 15 minutes at 190 °C (Object temperature)
For more information and updated Technical Data Sheets please contact a sales manager of NEOKEM: info@neokem.gr

| | |
| --- | --- |
| Classification IFC | Covering |
| Nom UNSPSC | Finishing materials and products |
| Code UNSPSC | 301519 |
| Uniclass 1.4 Code | JZ31 |
| Uniclass 1.4 Description | Powder coatings |
| Uniclass 2.0 Code | PR-15-29-64 |
| Uniclass 2.0 Description | Powder Coatings |
| NBS Reference Code | 35-85-65 |
| NBS Reference Description | Powder Coating Systems |
This product is available in:
Africa :
Angola
Burkina Faso
Burundi
Benin
Botswana
Congo-Kinshasa
Centraal Afrikaanse Republiek
Congo-Brazzaville
Ivoorkust
Kameroen
Kaapverdië
Djibouti
Algerije
Westelijke Sahara
Eritrea
Ethiopië
Gabon
Ghana
Gambia
Guinee
Equatoriaal-Guinea
Guinee-Bissau
Kenia
Comoren
Liberia
Lesotho
Libië
Marokko
Madagaskar
Mali
Mauritanië
Mauritius
Malawi
Mozambique
Namibië
Niger
Nigeria
Réunion
Rwanda
Seychellen
Sudan
Sint-Helena
Sierra Leone
Senegal
Somalië
Zuid-Soedan
Sao Tomé en Principe
eSwatini
Tsjaad
Togo
Tunesië
Tanzania
Uganda
Mayotte
Zuid-Afrika
Zambia
Zimbabwe
Antarctica :
Antarctica
Bouveteiland
Zuid-Georgia en de Zuidelijke Sandwicheilanden
Heard en MacDonaldeilanden
Franse Zuidelijke en Antarctische Gebieden
Asia :
Armenië
Azerbeidzjan
Bangladesh
Brunei
Bhutan
Cocoseilanden
China
Christmaseiland
Georgië
Hongkong
Indonesië
India
Brits Indische Oceaanterritorium
Japan
Kirgistan
Cambodja
Noord-Korea
Zuid-Korea
Kazachstan
Laos
Sri Lanka
Myanmar (Birma)
Mongolië
Macau
Maldiven
Maleisië
Nepal
Filipijnen
Pakistan
Singapore
Thailand
Tadzjikistan
Turkmenistan
Taiwan
Oezbekistan
Vietnam
Europe :
Andorra
Albanië
Oostenrijk
Åland
Bosnië en Herzegovina
België
Bulgarije
Wit-Rusland
Zwitserland
Cyprus
Tsjechië
Duitsland
Denemarken
Estland
Spanje
Finland
Faeröer
Frankrijk
Verenigd Koninkrijk
Guernsey
Gibraltar
Griekenland
Kroatië
Hongarije
Ierland
Isle of Man
IJsland
Italië
Jersey
Liechtenstein
Litouwen
Luxemburg
Letland
Monaco
Moldavië
Montenegro
Noord-Macedonië
Malta
Nederland
Noorwegen
Polen
Portugal
Roemenië
Servië
Rusland
Zweden
Slovenië
Spitsbergen
Slowakije
San Marino
Oekraïene
Vaticaanstad
Middle East :
Verenigde Arabische Emiraten
Afghanistan
Bahrein
Egypte
Israël
Irak
Iran
Jordanië
Koeweit
Libanon
Oman
Palestina
Qatar
Saudi-Arabië
Syrië
Turkije
Jemen
North America :
Antigua en Barbuda
Anguilla
Aruba
Barbados
Saint-Barthélemy
Bermuda
Caribisch Nederland
Bahama's
Belize
Canada
Costa Rica
Cuba
Curaçao
Dominica
Dominicaanse Republiek
Grenada
Groenland
Guadeloupe
Guatemala
Honduras
Haïti
Jamaica
Saint Kitts en Nevis
Kaaimaneilanden
SaintLucia
Saint Martin
Martinique
Montserrat
Mexico
Nicaragua
Panama
Saint-Pierre en Miquelon
Porto Rico
El Salvador
Sint Maarten
Turks- en Caicoseilanden
Trinidad en Tobago
Verenigde Staten
Saint Vincent en de Grenadines
Britse Maagdeneilanden
Amerikaanse Maagdeneilanden
Oceania :
Amerikaans Samoa
Australië
Cookeilanden
Fiji
Micronesia
Guam
Kiribati
Marshalleilanden
Noordelijke Marianen
Nieuw-Caledonië
Territorium Norfolkeiland
Nauru
Niue
Nieuw-Zeeland
Frans-Polynesië
Papoea-Nieuw-Guinea
Pitcairneilanden
Palau
Solomoneilanden
Tokelau
Oost-Timor
Tonga
Tuvalu
Kleine Afgelegen Eilanden van de Verenigde Staten
Vanuatu
Wallis en Futuna
Samoa
South America :
Argentinië
Bolivia
Brazilië
Chili
Colombia
Ecuador
Falklandeilanden (Islas Malvinas)
Frans-Guyana
Guyana
Peru
Paraguay
Suriname
Uruguay
Venezuela
Om de gegevens van het installatiebedrijf te zien, dient u zich eerst aan te melden door hierop te klikken Link