FX.12 Facade Panel
Site du fabricant
PREFA has been relying on its innovative spirit and unfailing integrity for over 70 years to offer roof, façade and drainage systems, and much more. As a faithful companion, we havealways supported private builders, architects and planners as well as metalworkers and roofers with their building projects. We are proud of the many unique new builds and renovation projects that are implemented every ... voir plusyear using PREFA aluminium products, andwhich not only have distinctive designs but are also durable and robust, even in extreme weather conditions. ... voir moins
Contact commercial
Pour voir les informations concernant le contact commercial, vous devez d'abord vous inscrire en cliquant sur ce Lien
Catalogue
Pour voir les informations concernant le contact commercial, vous devez d'abord vous inscrire en cliquant sur ce Lien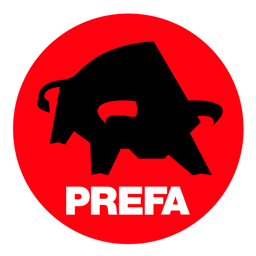 FX.12 Facade Panel
Sélectionnez le format souhaité et cliquez sur le bouton de téléchargement
| | |
| --- | --- |
| Width | 1400 |
| Height | 420 |
| Weight | 1.412 |
| Main material | Aluminium |
| Designed in | Autriche |
A real eye-catcher: the irregular canting of the FX.12 façade panel conjures up lively light effects on your façade. The panels constantly change appearance, depending on the position of the sun. However, the canting has en even more important function: it provides the panels with additional reinforcement, increasing their resistance.
During production, each piece is embossed in a unique way so that the cant pattern never repeats itself and is always irregular, even on large surfaces. An additional technical feature is the tapered standing seam.
This ensures absorption of any lateral expansion.
Through the additional canting of the top seam and the pre-cut holes, the FX.12 façade panel can be directly fastened to sheathing or a substructure.
Available in 14 colours
40-year PREFA guarantee on materials and colours
Quick and easy to install
No additional clips required
Creative design through irregular joint offset with 2 formats (long and short)
MATERIAL: aluminium 0.7 mm thick

VISIBLE SIDE: Coil coating

REAR: protective paint

SIZE: 1,400 × 420 mm (long) = 1.7 pc./m²; 700 × 420 mm (short) = 3.4 pc./m²

WEIGHT: 1 m²=approx. 2.4–2.5 kg/m²

ROOF PITCH: from 17°

INSTALLATION: only on solid sheathing (at least 24 mm thick)a separating layer is required with a roof pitch up to 25°

FASTENING: installation without clips. 3 nails per short panel and 5 nails per long panel → 9 nails per m² with a panel ratio of 2:1 or a surface ratio of 4:1 (long:short)
This product is available in:
Europe :
Autriche
Belgique
Suisse
République tchèque
Allemagne
Danemark
Estonie
France
Royaume-Uni
Croatie
Hongrie
Irlande
Italie
Lituanie
Luxembourg
Lettonie
Pays-Bas
Norvège
Pologne
Russie
Suède
Slovénie
Slovaquie
Pour voir les informations sur l'entreprise d'installation, veuillez vous inscrire en cliquant dessus Lien
Contact entreprises de pose