Store Vertical Extérieur Ambio
Hersteller-Webseite
Profalux has been designing, manufacturing and marketing more than 1500 roller shutters, awnings, sun protection and roll-up garage doors every day since 1969.

With more than 3 million products installed in France, our brand offers the inescapable expertise of exceptional French manufacturing. Production at the Thyez plant in Haute-Savoie represents more than 200 salaried jobs that contribute t... Mehr seheno the local economic dynamic.

Our team, passionate and creative, is constantly searching, innovating and finding solutions that improve everyday life.
Demanding, we choose to produce according to the highest quality standards, regularly submitting our production to audits by the CSTB (Centre Scientifique et Technique du Bâtiment), the French building authority. ... weniger sehen
Vertriebskontakt
Registrieren Sie sich um die Informationen bezüglich des Vertriebkontakts einzusehen. Link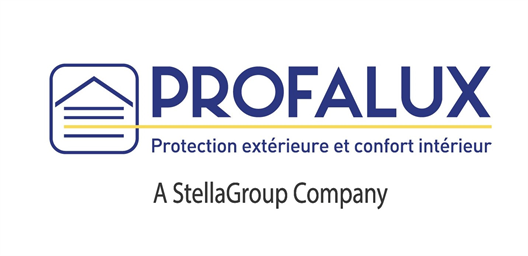 Store Vertical Extérieur Ambio
Wählen Sie das gewünschte Format und klicken Sie auf den Download-Button
| | |
| --- | --- |
| Main material | Aluminium |
| Designed in | Frankreich |
| Manufactured in | Frankreich |
Find in the section « Download » every usefull informations for your project : technical drawings, data sheet, notice, downloading procedure of the « Vent & Volet » mobile app, argumentary of the connected general remote control Calyps'HOME®.
Connected Outdoor Vertical Blinds - Decarbonated contributor for buildings (reduced energy consumption and summer comfort) - Guarantee of glazing clarity for more light
Energy performance :
- Composite material canvas type textile Soltis Horizon 86 from the company Ferrari ®.
23 colors at the choice of the architect
- Up to 85% of heat blocked outside
- Minimum clearance on the glazing: small box (90) and fully retractable box-closing load bar
- Self-supporting structure, no other fixation for the slides is necessary
- Exclusive Enduro chassis tested over 14,000 cycles (40 years of operation with one ascent and descent / day)
- Slotted holes in the guide rails, ideal for perfect alignment of the fabric.
- Telescopic ends of the load bar (little risk of coming out into the wind)
- Possibility of recovering 4 mm of play-free width at the time of installation.
- Option without box for integration in a reservation
To know : Compatibility with a Calyps'HOME connected general control (sold as an option) to close the shutters at the same time with a single button, even remotely. Compatibility also with the BMS (Building Management System).
POSE CASE
Installation WITHOUT Reservation
Traditional construction with insulation from the inside or outside, under lintel or surface-mounted (laying on brackets)
Also possible in Wood Frame Houses
Technical data
Characteristics of the canvas
Find all the technical product information in the Technical Data Sheet available in "Download"

Coefficient of aperture :
14%
ΔR : 0.08 m²/W/K
Weight :
380g / m2
Solar and light properties :
According to EN 14501 standard
Fire classification: M1
Euroclass : B-s2
EN 13501
Tensile strength :
230/160 daN/ 5 cm according to EN ISO 1421 standard
Tear resistance :
45/20 daN according to DIN 53. 363 standard
Characteristics of the awning
Maneuvers :
Radio Profalux Zigbee (or Somfy IO in option)
Wired (Profalux only)
Backstage :
C30
Min. limits :
Profalux Electric Motor without backup
LDC* min = 510 mm
HCC* mini = 400 mm
For smaller widths, please consult us
Limitations of use for Ambio :
LDC* = 4000 mm
HCC* = 3050 mm
Number of brackets for surface mounting Height Box Included
< 1 800 mm : 2 brackets per slide
< 3 000 mm : 3 brackets per slide
< = 3 050 : 4 brackets per slide
Ribs for the axing in the case of installation on brackets
Mini : 60
Maxi : 115
Box :
Shape of the box : square
Sections of caissons: 132 / 155
Dimensions (Height x Depth): 90 x 92 mm
Namely For LDCs less than 749 mm, ask Profalux about feasibility.
CE marking, Wind resistance Class 3 according to dimensions > Find all the details on wind resistance on our website Profalux.
Please note : The mobile app « Vente & Volet » allows you to calculate in a few clicks the wind resistance class your rolling shutters, BSO or vertical stores may respect. For your project according to the DTU 34.4

*LDC = Width of the back of the runners
*HCC = Height of the box included

| | |
| --- | --- |
| Classification IFC | Fenster |
| Uniclass 1.4 Code | L4212 |
| Uniclass 1.4 Description | Awnings |
| Uniclass 2.0 Code | PR-58-08-05 |
| Uniclass 2.0 Description | Awnings |
| NBS Reference Code | 58-08-05 |
| NBS Reference Description | Awnings |
This product is available in:
Um Informationen bezüglich der Montagefirma zu erhalten registrieren Sie sich unter folgendem Link Link
| | |
| --- | --- |
| | Documentation Store Vertical Exterieur Ambio.pdf |
| | CST- Coupe AMBIO Equerres sur façade.pdf |
| | CST- Coupe AMBIO Equerres sur menuiserie.pdf |
| | CST- Coupe CST sur menuiserie.PDF |
| | Argumentaire de la télécommande générale connectée Profalux - Calyps'HOME®.pdf |
| | Procédure de téléchargement de l'application Vent & Volet.pdf |
| | Ambio.pdf |