Lumia - Tilt & Turn Single Casement Window
Hersteller-Webseite
Minco, a wood/aluminium composite windows manufacturer
Minco designs and makes composite windows since 1991. Thanks to our experience and know-how, we have managed to bring technological advancements to our products and overall to the window field. The quality of our finishes and our environmental friendliness are two of our main assets.

Minco windows : a symbol of our beliefs
100% made in Fr... Mehr sehenance and elite requirements are two attributes that haven't changed in 20 years : that is, detail finesse, design quality, selected high tech interior finishes, top wood essence choices for our profiles... Each window gets maximum attention and is set to meet ecological targets all throughout our design chain. And what about our colors ? Our wood/aluminium color scheme is unique in France... ... weniger sehen
Vertriebskontakt
Registrieren Sie sich um die Informationen bezüglich des Vertriebkontakts einzusehen. Link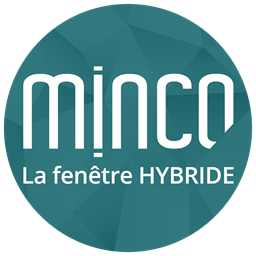 Lumia - Tilt & Turn Single Casement Window
Wählen Sie das gewünschte Format und klicken Sie auf den Download-Button
| | |
| --- | --- |
| Main material | Holz |
| Secondary material | Aluminium |
| Designed in | Frankreich |
| Manufactured in | Frankreich |
LUMIA F1OB casement window

Liked for its aesthetics, the hidden leaf allows the window to have the opening leaf invisible behind the frame. For a given dimensions, this inswing casement window increases the glazed area allowing for a better daylighting.
Finishes
Exterior : 30 aluminium colors either finely textured, satin or sand. Qualicoat and Qualimarine label.
Interior : PEFC certified pine, 26 possible finishes between semi-translucent, opaque, structured or metallic.
phA classified by the Passive House Institute
Entirely made with natural materials, the Lumia range is considered as a "certified passive component" by the Passive House Institute. This hybrid composite window is perfectly fitted for passive houses thanks to several elements :
triple glazing
wood fiber insulation
warm edge spacer.
This combo allows it to read a Uw< value of 0.63W/m².K, granting it the « ph A » classification, the highest efficiency class given by the Passive House Institute.
Thermal performance
Uw = 0.6 W/m².K
Acoustic performance
RAtr = 32 to 43 dB
48mm standard triple glazing
Ug = 0.50 W/m².K
Eclaz triple glazing
Ug = 0.50 W/m².K
Warm edge spaces
Reusable and ecological insulation in wood fiber
Fully recyclable window
| | |
| --- | --- |
| Classification IFC | Fenster |
| Nom UNSPSC | Casement windows |
| Code UNSPSC | 30171606 |
| Uniclass 1.4 Code | JL10 |
| Uniclass 1.4 Description | Windows |
| Uniclass 2.0 Code | PR-59-97-15 |
| Uniclass 2.0 Description | Composite Window Units |
| NBS Reference Code | 59-97-15 |
| NBS Reference Description | Composite Window Units |
This product is available in:
Europe :
Belgien
Schweiz
Frankreich
Luxemburg
North America :
Guadeloupe
Sankt Lucia
Martinique
Um Informationen bezüglich der Montagefirma zu erhalten registrieren Sie sich unter folgendem Link Link